SHAQUEEL VAN PERSON SIGNS MAIDEN CONTRACT
SHAQUEEL VAN PERSON SIGNS MAIDEN CONTRACT
Shaqueel Van Persie has signed his maiden professional contract atFeyenoord in the Dutch league at the age of 15. Shaqueel is the son of Robin Van Persie, a former Dutch international. The son of Robin Van Persiesigned the contract last week Monday. He signed a three-year deal with his Rotterdam club until 2025.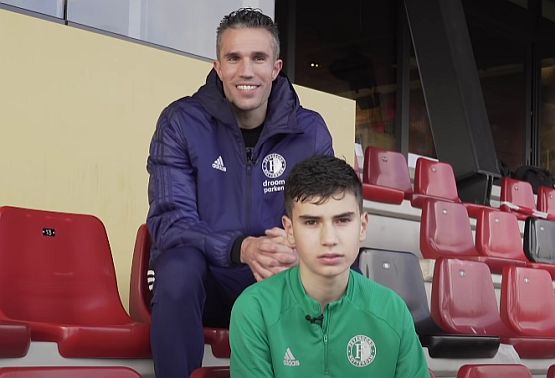 In his first interview with the club after signing his maiden professional contract at UEFA Europa League finalists Feyenoord, Shaqueel expressed his delight with the new deal as he said it was a special day for him having been playing at the club since he was 10.
Shaqueel Van Persie said Feyenoord is like a second home to him. Speaking further, Robin Van PersieJunior disclosed that everything is beautiful from the stadium to the supporters and others connected to the Dutch team.
Young Shaqueel would be hoping to follow in the footsteps of his father who also began his professional football career at Feyenoord several years ago. Around two decades ago, a young Robin Van Persie signed a professional contract at Feyenoord before he went on to score 46 times for the club in two spells. His second spell was for the period of a year during the 2018/19 season. He made a total of 121 appearances for Feyenoord over the two spells. Robin Van Persie started his football career at Feyenoord and also ended it at the club.
Apart from Feyenoord, Robin Van Persie also played for Fenerbahce in the Turkish top flight and the English duo of Arsenal and Manchester United. He made his name at Arsenal before leaving the North London club to sign for Manchester United in a controversial transfer. Van Persie won the league title in his first season after signing for the Red Devils in a deal reported to be around £24m.